Hydro One has chosen its preferred route for the St. Clair Transmission Line from Lambton to Chatham to unlock more high-voltage electricity to meet growing demand in the area.
Hydro One announced on Monday that route 2 (shown in diagram below) between Hydro One's Lambton Transformer Station in St. Clair Township and Chatham's Switching Station located just southeast of Chatham was selected because it uses more than 80 per cent of existing transmission corridors and upgrades an existing transmission line.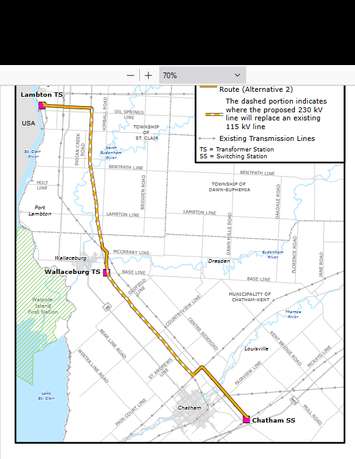 (Diagram via Hydro One)


Hydro One also said this option has the least effect on the values of importance to Indigenous communities and to the natural environment, agricultural lands, and operations.
The project will also involve an upgrade of the Wallaceburg Transformer Station, which will increase the transmission reliability and resiliency for the Wallaceburg area, according to Hydro One.
The preferred route was picked out of five options following "a thorough evaluation", according to Hydro One, and maximizes existing infrastructure while improving reliability.
Hydro One said the proposed new double-circuit 230 kilovolt transmission line will bring enough clean energy to the region to power a city the size of Waterloo and will allow for economic growth in the area.
"Through our engagement efforts, we heard that minimizing effects to homes, maximizing the use of existing transmission corridors, and considering effects to agricultural operations and species at risk were important. Route 2 was able to achieve all of this," said Project Director Sonny Karunakaran. "The new St. Clair Transmission Line will unlock the economic potential of the region and support local supply chains. We will continue to engage with Indigenous communities, residents, businesses and elected officials as we expand the system to meet the growing needs of southwest Ontario."
Hydro One evaluated five route alternatives for the new transmission line by collecting environmental and technical information and gathering input from Indigenous communities, community members, municipal staff and elected officials, government agencies, interest groups and businesses.
"The impact of this new line, once built, will be remarkable for the region," said Director of the Essex and Kent Ontario Federation of Agriculture (OFA) Louis Roesch. "We continue to work very closely with Hydro One and offer feedback from our members, which is critical as the project continues to move ahead."
The mayor of Chatham-Kent is pleased with the project, saying the municipality will need more power in the future.
"Southwestern Ontario is growing, and we understand this network of electricity infrastructure projects is critical to help meet the energy demand that our region will experience over the next several years," said Chatham-Kent Mayor Darrin Canniff. "We will continue to work with Hydro One throughout the engagement process to ensure clean and reliable energy will continue to power southwestern Ontario for years to come."
The mayor of St. Clair Township agreed.
"This new transmission line will support local food supply and security, economic development and job creation in our region," said Mayor of St. Clair Township Jeff Agar. "This critical project will help ensure residents in St. Clair have reliable power for years to come."
The province said it is accelerating the development of new transmission lines to power new homes and job creators coming to the region.
The Ontario Greenhouse Vegetable Growers this transmission line will enable the greenhouse vegetable sector to grow in Ontario.
Hydro One said it will continue to engage with residents and work closely with property owners to keep them informed of the project's next steps.
Residents can learn more about how the route was selected and provide feedback on the project by attending the following community open houses:
• Monday, June 26, 2023 from 2 p.m. to 8 p.m. at Brigden Fairgrounds, 2958 Brigden Road, Brigden • Tuesday, June 27, 2023 from 2 p.m. to 8 p.m. at UAW Local 251 Hall, 88 Elm Drive South, Wallaceburg • Wednesday, June 28, 2023 from 2 p.m. to 8 p.m. at Kent Belgian Centre, 34 Byng Avenue, Chatham
The Independent Electricity System Operator (IESO) projects that energy demand in southwest Ontario will quadruple by 2035.
The line is expected to be in service in 2028.
Click here for more information about the project and to learn more about the preferred route selection process.
Community members are encouraged to contact Hydro One at: 1-877-345-6799 or Community.Relations@HydroOne.com to provide feedback on the project or to be added to the contact list.