Hall of Fame pitcher Fergie Jenkins Jr. will be immortalized next Spring in his hometown of Chatham with a larger-than-life sculpture.
Mayor Darrin Canniff said the nine-foot sculpture, which will be made from the same mould as the one on display outside of Wrigley Field in Chicago, should be delivered by April or May and will be temporarily displayed in the atrium at the current Civic Centre in Chatham and perhaps later at the new proposed Civic Centre downtown as per Jenkins' request.
Jenkins said it's very meaningful to have a sculpture where he grew up and played baseball and he hopes it will grow and promote the sport across Chatham-Kent.
"Chatham was a town that fundamentally supported baseball in the summer months. The kids really want to play the sport of baseball," said Jenkins. "We have the facilities here and we have good coaches."
Jenkins, who was the first Canadian inducted into the National Baseball Hall of Fame in Cooperstown and is also enshrined in the Canadian Baseball Hall of Fame, said he still can't believe he's also being immortalized in Chicago and Chatham.
"That's something that's surprising each time I think about it. Specially now with the mayor bringing the statue here, I think that's going to be even more immortalized," said Jenkins. "When I go down and see my grandkids and relatives, they can understand that I played one of the best games in the world... baseball."
Canniff said he's thrilled this is happening and hopes the statue inspires children of all ages.
"When you cross the Ambassador Bridge, I want you to feel like this is home all the time," said Canniff. "You made Chatham-Kent so proud with your accomplishments. You inspire all of us."
It's not clear how much the sculpture will cost, but the expenses are being paid for by an anonymous donor.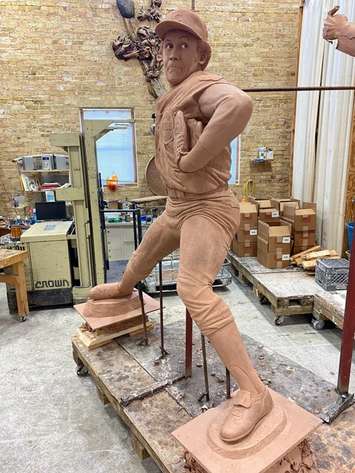 The making of Fergie Jenkins' statue. Photo courtesy of Chicago Cubs.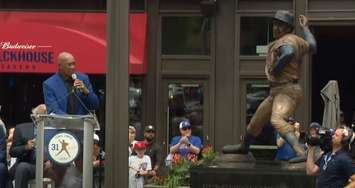 Fergie Jenkins statue unveiling at Wrigley Stadium in Chicago on May 20, 2022. (Screengrab via WGN News YouTube)