Some lucky students in Blenheim will be riding in style as the community has been selected as one of only 14 in the province to test out a new all-electric school bus.
Jarrod Denure, operations manager for Blenheim Bus Lines, pulled up to St. Anne Catholic School as the bus made what sounded like a jingle when it came to a stop. According to Denure, the bus has to make the sound because it is so silent.
"You can hear the diesel buses from really far away, but this one doesn't make a sound," Denure said. "It is running right now and you'd never be able to tell."
Denure said the community has been walking on "Cloud Nine" since they were awarded the honour months ago.
"It's pretty exciting to be at the forefront of technology," Denure said. "This is obviously the newest push in the direction of modernity, so were are happy to be right there at the front of it."
Denure doesn't expect to have a whole fleet of these buses anytime soon. He said the province is simply testing them out to gauge how efficient they are. He wouldn't speculate what set Blenheim apart from other communities but said he was just happy the town was chosen.
The bus began its maiden voyage Friday at Blenheim District High School, before travelling to St. Anne Catholic School and the last pick up was at Harwich Raleigh Public School.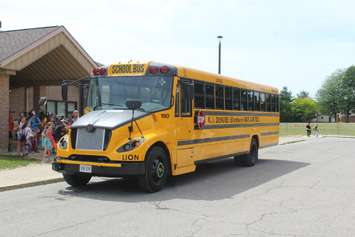 The electric schools bus arrives at St. Anne Catholic School in Belenheim for it's maiden voyage. June 15, 2018 (Photo by Greg Higgins)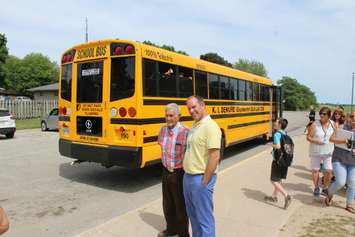 Jarrod Denure and his father Ken pose behind the new electric bus as students from St. Anne Catholic School board. June 15, 2018 (Photo by Greg Higgins)