Chatham-Kent police are putting out a call for tips after someone spray-painted a pair of swastikas on the cenotaph in downtown Chatham.
Police said it's believed the incident took place sometime between Tuesday, February 28 and Wednesday, March 1 at 6:40 a.m. adding that blue spray paint was used to damage the monument on Sixth Street.
Anyone with information or video that could help police to identify the suspects is asked to contact Constable Jordan Tone at jordant@chatham-kent.ca or 519-436-6600. Anonymous callers can also call Crime Stoppers at 1-800-222-TIPS (8477) and may be eligible for a cash reward.
It's the second time in the past few months that the cenotaph in Chatham has been hit by vandals.
The cenotaph was also vandalized with paint shortly before Remembrance Day in Chatham last year.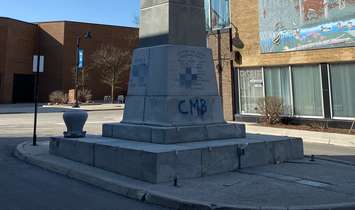 Vandalism at the Chatham Cenotaph. March 1, 2023. (Photo by Matt Weverink)