Crews are still out working around the clock to clear up power outages after Wednesday night's ice storm.
As of  5 p.m. on Thursday, Hydro One was still reporting dozens of outages across southwestern Ontario and Entegrus is also reporting several pockets of outages across Chatham-Kent.
According to Entegrus, there are still outages in Wheatley, Merlin, Erieau, Blenheim and Ridgetown.
The power in Wheatley is expected to be restored by 9 p.m. Thursday as crews work to repair poles, transformers and down wires in the area.
In Blenheim, Entegrus said restorations will be staggered as fixes are made. Additionally, Entegrus announced on Thursday afternoon that power in Merlin and Ridgetown should be restored by 7 p.m. Thursday.
Hydro One crews continued to monitor dozens of scattered outages across Chatham-Kent, with some of them not expected to be restored until Friday afternoon.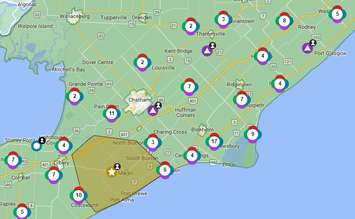 Hydro One Outage Map. February 23, 2023. (Photo courtesy of Hydro One)