The company in charge of the new condominium building in downtown Chatham has taken on an additional $9 million project in the heart of the city.
Construction company Everlast Group has taken on the student housing facility project on King Street across from the Chatham-Kent Fire Station 1. The building was previously a YMCA, but has been mostly vacant since "the Y" moved to a new facility in 2011.
The principal of Everlast, Victor Boutin, was asked why the group would take on a new project while the condominium building hasn't been completed almost a decade after ground was broken. Construction began on the $50 million, 88 unit building in 2010 and has been delayed multiple times.
"I think we should leave the past in the past and look ahead at the future and you have a great future here," Boutin said. "With those kinds of projects, you don't do them in a few days. It is like Rome. Rome wasn't built in a day, it took a few years so it is the same thing here. You have to look at the future and in 10 years, Chatham-Kent will be completely different."
Boutin said the delay has been due to the trades and "something else" which he claimed was out of the company's control. He said the condos will be finished by July and ready for leasing by August.
Chatham-Kent Mayor Darrin Canniff said that he and Boutin hope to hold a similar press conference and tour at the Boardwalk Condominium building in a few weeks.
As for the student housing facility -- being called La Residence -- Boutin said it will be done in three phases. The first phase, which started in November of 2018, is expected to be completed this March. The second phase is set for June and the final phase is expected to wrap up in December 2019. After its completion, the facility will be ready to accept students for the following semester at St. Clair College.
The facility will house 200 people and the focus is on bringing students in from India and China. Each unit in the building will have four bedrooms, a full kitchen, two bathrooms with showers, a living room, and a dining room.
"We like to look after students, especially those coming from all over the world," Boutin said. "We have to please them and make them happy. This way if we do great things for them they will bring more students here."
Boutin added that Canadians can also apply for residency as it isn't strictly for international students.
Canniff said post-secondary education is something council identified as an important aspect of the community.
"What a great opportunity for Chatham-Kent to attract those individuals and convince them to stay here in the roles and opportunities they are trained in," Canniff said. "It is a really exciting opportunity for Chatham-kent and I am looking forward to seeing this completed"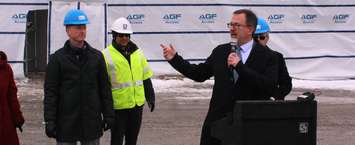 Chatham-Kent Mayor Darrin Canniff address media at the new student residency being built in downtown Chatham. February 14, 2019. (Photo by Greg Higgins)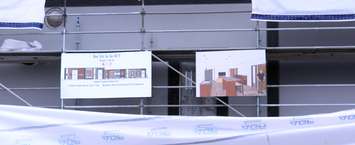 Floor plans of what the units inside the student housing faciltiy will look like. February 14, 2019. (Photo by Greg Higgins)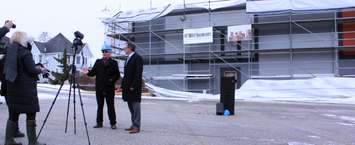 Everlast Group Principal Victor Boutin and Chatham-Kent Mayor Darrin Canniff address media at the new student residency being built in downtown Chatham. February 14, 2019. (Photo by Greg Higgins)