The Shoppers Drug Mart on Chatham's Queen St. is the third building in the last three days to be involved in a motor vehicle collision in Chatham-Kent.
Emergency crews responded to the crash around noon Tuesday. A van appeared to drive over the curb, smashing into one of the front windows of the store.
Crews took time to clean remnants of the shattered window off the van. The pillar beside the window also appears to have been dented. Chatham-Kent police confirm there were no injuries in the crash.
This marks the third recent collision involving a vehicle and a building in Chatham-Kent. Early Tuesday morning, a truck caused $50,000 in damage when it hit a house in Ridgetown. On Sunday, another vehicle struck a garage in Chatham.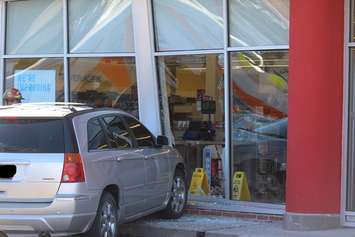 The scene after a van ran into the front of the Shoppers Drug Mart on Queen St. in Chatham, October 25, 2016 (Photo by Jake Kislinsky)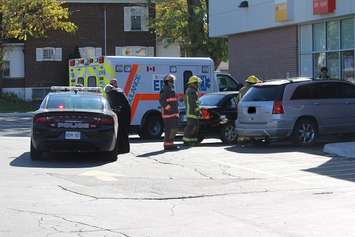 The scene after a van ran into the front of the Shoppers Drug Mart on Queen St. in Chatham, October 25, 2016 (Photo by Jake Kislinsky)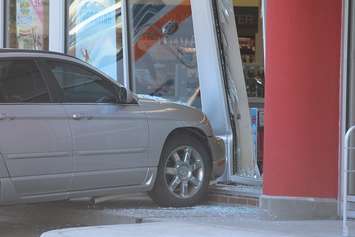 The scene after a van ran into the front of the Shoppers Drug Mart on Queen St. in Chatham, October 25, 2016 (Photo by Jake Kislinsky)


RELATED: Busy Intersection Under Review