While seeking a way to honour her sister's passing, Kiwanis Club of Chatham-Kent member Cathy Telfer decided donating to Dolly Parton's Imagination Library would help keep young children reading.
Sandy Parker, passed away at the age of 67 on May 31, 2023, after a lengthy battle with health issues but her love for reading will continue to help inspire young children in Chatham-Kent.
"Reading was really important to her," said Telfer. "She was in ill health, so she was not very mobile. She would read wherever and she said to me so many times that she wouldn't know what she would do if she couldn't read."
Aware of the Kiwanis Club being an affiliate of Parton's Imagination Library, Parker was planning to donate but didn't have the chance before her unexpected passing.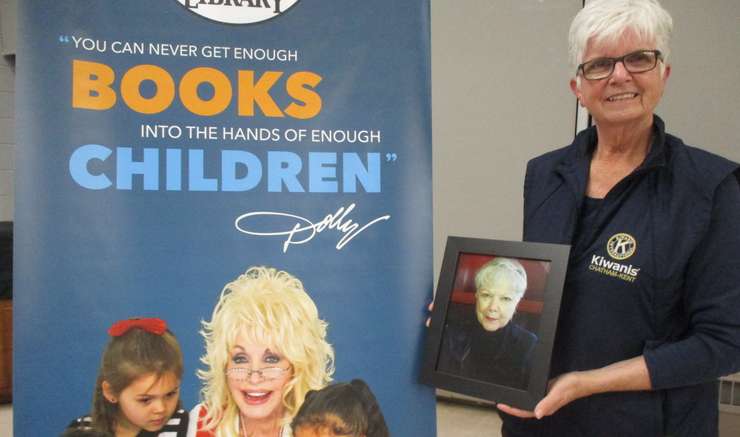 (Photo submitted by Cathy Telfer)
So in memory of Parker, the club is launching a fundraiser for children in Chatham-Kent to continue receiving books through the program.
The Imagination Library is a book gifting program that allows children up to the age of five to receive a free, high-quality, age-appropriate book in the mail every month.
"We talked about the Dolly Parton Imagination Library and how the Chatham-Kent Kiwanis Club was doing with it," said Telfer. "She wanted to donate but didn't have a chance to do that. This seemed like an ideal fit to honour her memory."
Every dollar donated to the project from October 1 to December 31 will be matched, up to a total of $5,000 with a goal of $10,000, to keep current kids receiving books from Parton's program.
Since partnering with the Dollywood Foundation in 2021, the Kiwanis Club has been able to inspire over 400 children in Chatham-Kent to read.
"Right now we have 20 communities in Chatham-Kent that have children receiving these books," said Telfer. "So we certainly broaden our horizon since we started in Chatham."
To date, the club has been able to keep the pages turning through funds raised from personal commitments, volunteering efforts, and grants from community partnerships.
"I know she would [be proud]," said Telfer.
Anyone wishing to support the program locally can do so by donating to the Dollywood Foundation online.