A 64 year volunteer with the Chatham Goodfellows has been named the 2023 Senior of the Year in Chatham-Kent.
Mary Williston of Chatham was selected Senior of the Year on Thursday morning during a ceremony.
Chatham-Kent Celebration of Older Adults committee Co-chair Councillor Marjorie Crew said older adults in the community are the "life blood of volunteerism" and what makes Chatham-Kent "move along."
Mayor Darrin Canniff said Williston is an inspiration to all of us.
Williston is also part of several other charities, such as the Chatham-Kent Health Alliance Foundation, became International President of LaSertoma 15 years ago, had a long nursing career, and was a scout leader.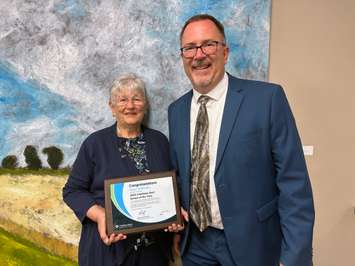 Mary Williston (left) accepts the 2023 Senior of the Year Award from Chatham-Kent Mayor Darrin Canniff (right). June 1, 2023. (Photo courtesy of the Municipality of Chatham-Kent)


Williston said she is humbled by the honour.
"When I get up in the morning I just wonder what adventure is going to meet me today and I found that volunteering does lead me on lots of adventures," said Williston.
Williston said she gets back more than what she receives.
"Who knew that I would get back 10 times what has been given to me. Who knew that today I would also receive these accolades for something that I love to do," she added.
Williston said she's proud of the work she and her colleagues have done to help people.
"Five generations of what you see today are not being told to volunteer but volunteering for Chatham Goodfellows. So five generations later I'm so proud of the family I have in Chatham," Williston said.
June is seniors month.