It will take volunteers several more hours of work to sort through the thousands of bags of food that were collected across virtually every corner of Chatham-Kent this weekend.
On Saturday, residents and businesses collectively participated in the May 16th Miracle by leaving non-perishable food items on their doorstep to go towards feeding those in need during the COVID-19 emergency.
The initiative was planned by a group of community leaders and local business owners in collaboration with the United Way.
Moréna McDonald, owner of 519 Events & Promotions and project manager for the May 16th Miracle, said the event exceeded the expectations of everyone involved.
"We were all so amazed," she said. "Chatham-Kent came together in such a unique way. "
Volunteers drove across the municipality around the noon-hour, collecting the items that were left on porches. There were also several drop-off locations set up for those living in rural areas.
McDonald said the majority of Chatham-Kent residents got involved.
"I know that some streets I went down, it was every single house that had something on their porch," explained McDonald. "It was kind of a magical moment to see that, because we can't be with each other, they put something out on their porch. It was kind of like a symbol of we're all in this together."
Although there are no exact totals yet, McDonald said the amount of food that was collected throughout the day was a sight to behold.
"What I can say is it's mindblowing. Walking into some of those drop-off locations and just seeing the amount of boxes and bags of food, it was like being in a disorganized grocery store," she said. "It was insane."
Planning for the event started just three weeks ago. According to McDonald, the idea was thought up by Chatham-Kent residents Wes Thompson and James Rasmussen. From there, it snowballed into an 11-person leadership team and kept growing and growing.
To organize the municipality's largest food drive ever, you also need a lot of hands on deck to make it happen. According to McDonald, there were more volunteers than there are square kilometres in Chatham-Kent.
"We had 2,000 at least register [to volunteer] formally on our website," she said. "Then we had a bunch of people jump in at the last minute, families coming together to help volunteer. All I can say is probably at least 3,000 volunteers total. Then, of course, the majority of Chatham-Kent putting something on their doors step or apartment lobby or driving to a rural drop-off location. It took thousands of people to pull this off and we're so incredibly grateful."
Now, McDonald said volunteers have a lot of work ahead of them with sorting the items and distributing them to local food banks. Whichever community the food was collected in is where the donations will stay.
"Our hope is that this movement doesn't stop on May 16, that it continues," McDonald exclaimed. "There's always going to be a need for the community to help others."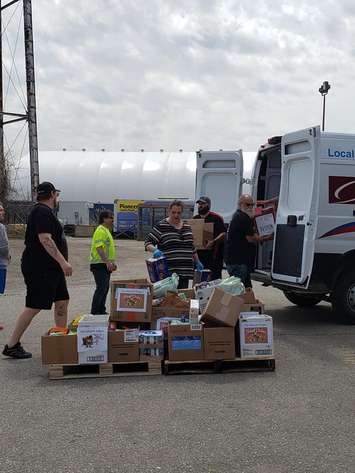 May 16th Miracle (Photo via TekSavy Facebook)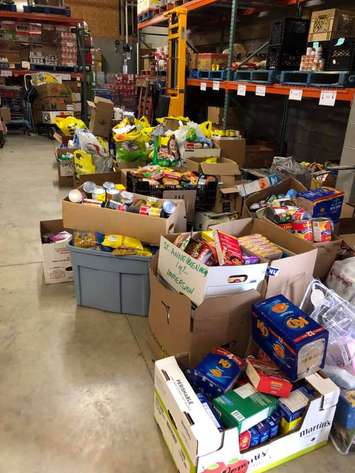 May 16th Miracle (Photo via Salvation Army Chatham-Kent Ministries Facebook)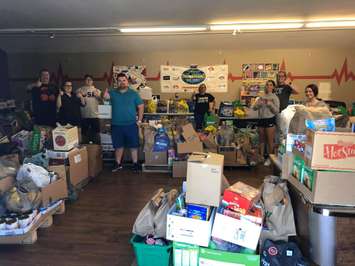 May 16th Miracle (Photo via Mayor Darrin Canniff Facebook)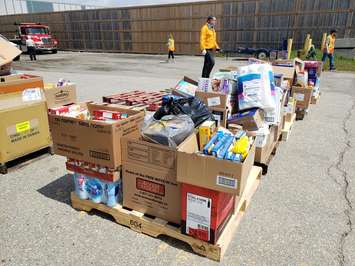 May 16th Miracle (Photo via TekSavy Facebook)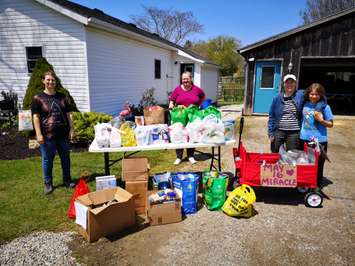 May 16th Miracle (Photo via Crazy 8 Barn Facebook)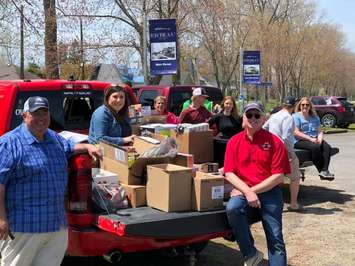 May 16th Miracle (Photo via Anthony Ceccacci Facebook)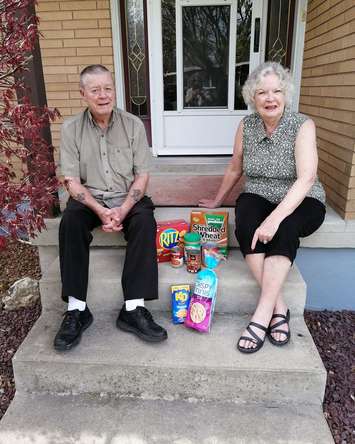 May 16th Miracle (Photo via Becky Fixter Facebook)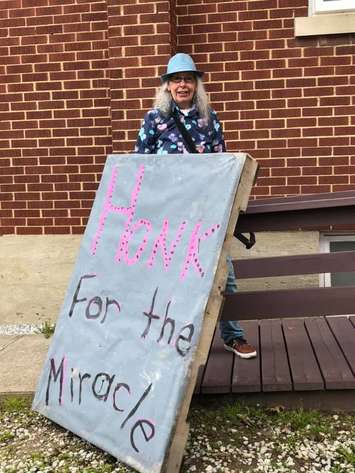 May 16th Miracle (Photo via 519 Events & Promotions Facebook)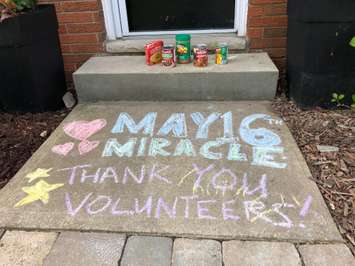 May 16th Miracle (Photo via Matt Weverink)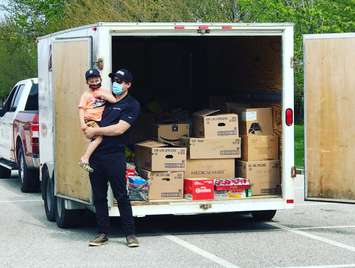 May 16th Miracle (Photo via Handybros Climate Care Facebook)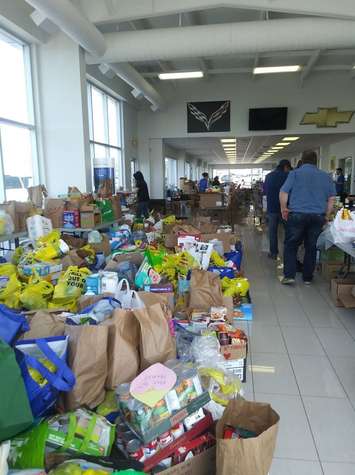 May 16th Miracle (Photo via Mark Authier Facebook)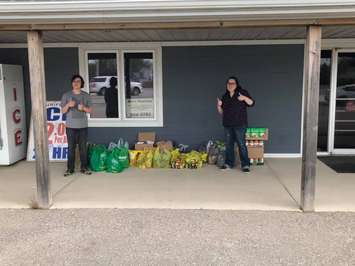 May 16th Miracle (Photo via Anthony Ceccacci Facebook)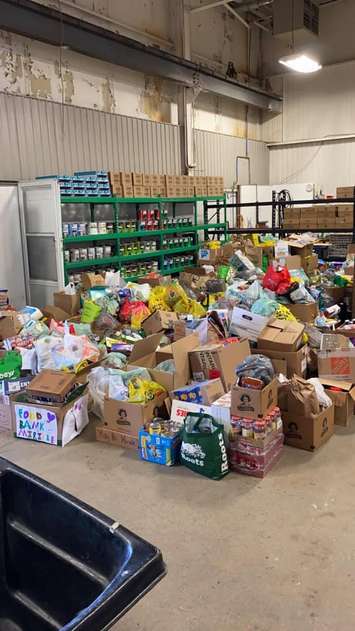 May 16th Miracle (Photo via 519 Events & Promotions Facebook)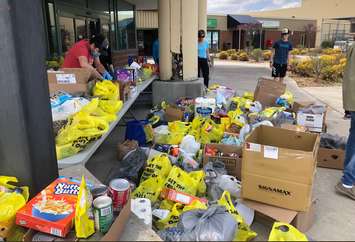 May 16th Miracle (Photo via John Norton Twitter)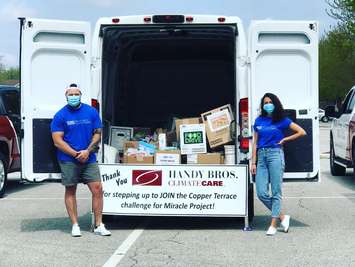 May 16th Miracle (Photo via Handybros Climate Care Facebook)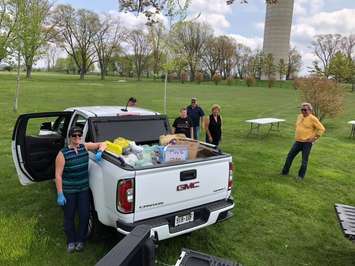 May 16th Miracle (Photo via Jamie McGrail Facebook)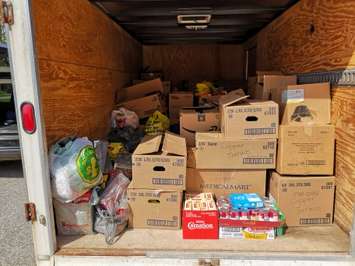 May 16th Miracle (Photo courtesy Darlene Rylett)