Several high school students in Chatham-Kent are getting to know the pressure associated with being on stage.
The 2017 Sears Drama Festival kicked off at the Kiwanis Theatre Monday night, where three schools performed.
The first to go on stage was Ridgetown District High School with their performance of "Censorbleep".
Sixteen-year-old Rebecca Robinson and 17-year-old Randi Minnie had very different excitement levels before heading on stage. With this being Robinson's first performance, the nerves were high.
Cast of "Censorbleep" from Ridgetown District High School getting ready for the show. February 27, 2017. (Photo by Natalia Vega)
"It was incredibly stressful, especially since I also had to do makeup [as well]," says Robinson. "I've performed before but I haven't done it on this big of a scale so I'm very nervous."
Minnie on the other hand has taken part in the festival for a few years and knew what to expect.
"It's my fourth year here so I'm used to the stress of it," says Minnie. "I know what it's going to be like on stage but [there's always] the pre-show jitters."
The second school to perform was Blenheim District High School with "The Case of the Red Herring".
Grade 12 student Jace Nissen played the second lead character, Barry Anderson.
He says although he was nervous beforehand he's excited to have it finished so that he can look back and be proud of the group effort.
"It was my first major experience in an acting role and I'm loving it," says Nissen. "Once it's done, it's done, and you're proud afterwards."
The last school to hit the stage was UCC with "Colours in the Dark".
Cast of "Colours in the Dark" from UCC, before the show. February 27, 2017. (Photo by Natalia Vega)
Cast members Melody Pigeon, Emma Putnam, and Luke Reaume all shared the same level of excitement before heading on stage.
"It matters so you get nervous when it matters," says Pigeon. "It's a very unique kind of rush because in a moment you're connecting with your audience and that's something I can only get as an actor."
Putnam says it's been a long process, looking at when they first started to Monday night's curtain call.
"When we first got the script it was absolutely enormous, we had to do a lot of cutting out," says Putnam. "After that it was really about trying to figure out how to make the whole play make sense, how to make it all come together nicely."
But the storyline was only part of the process. Reaume says there was a lot of time spent building bonds and friendships in order to make the production run smoothly.
"Not many of us came back from last year and we had to get to know everybody and make sure we can work as a team," says Reaume. "The first few days were spent just getting to know each other and seeing that we could make this production come together as a group."
There are two more nights of performances at the Kiwanis Theatre, with Tilbury District High School and John McGregor Secondary School set to take the stage Tuesday night.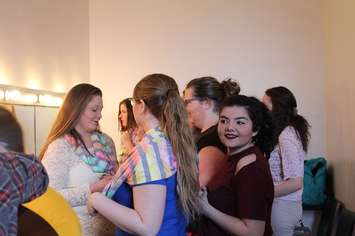 Cast of "Censorbleep" from Ridgetown District High School getting ready for the show. February 27, 2017. (Photo by Natalia Vega)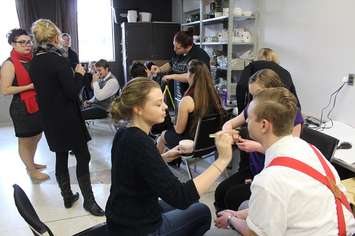 Cast of "The Case of the Red Herring" from Blenheim District High School getting ready for the show. February 27, 2017. (Photo by Natalia Vega)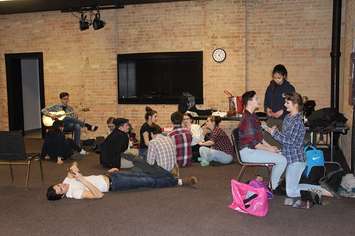 Cast of "Colours in the Dark" from UCC, before the show. February 27, 2017. (Photo by Natalia Vega)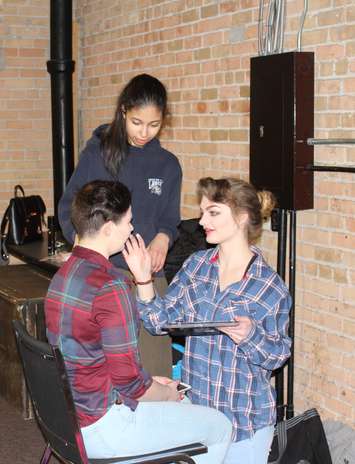 Cast of "Colours in the Dark" from UCC, before the show. February 27, 2017. (Photo by Natalia Vega)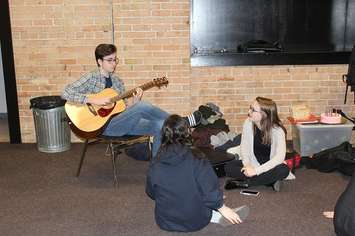 Cast of "Colours in the Dark" from UCC, before the show. February 27, 2017. (Photo by Natalia Vega)