Can you identify these suspects?
Chatham-Kent police are looking for two suspects who allegedly broke into a gas station in Dresden and took off with an empty cash register.
Police said they were called to the scene just before 3 a.m. Thursday after an alarm went off at the business on St. George Street.
When officers arrived, they allegedly found that the front door of the business had been smashed.
The suspects took off with a cash register, but police said it was empty.
Officers described the first suspect as a white man with facial hair -- he was last seen wearing a black Helly Hanson jacket, khaki pants, and white shoes.
The second suspect is described as wearing a black coat with a brimmed black and purple hat, white gloves, grey pants, and black shoes.
Both of the suspects were seen leaving in a dark coloured vehicle and police provided two surveillance camera pictures, which you can see below.
Anyone with information should contact Chatham-Kent police or Crime Stoppers.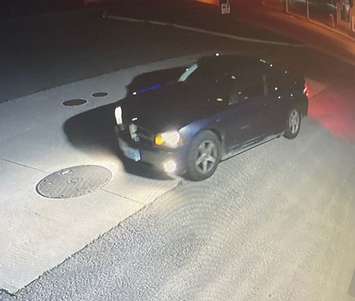 Suspect vehicle in an alleged break-in at a gas station on St. George Street in Dresden. Thursday, May 18, 2023. (Photo courtesy of Chatham-Kent police)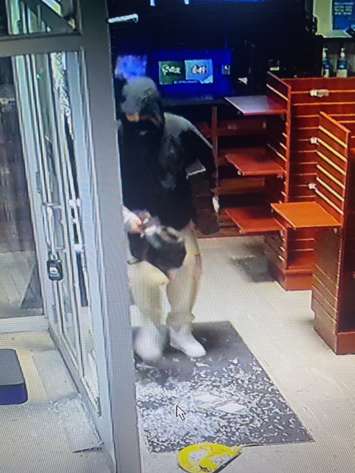 Suspect accused in a break-in at a gas station on St. George Street in Dresden. Thursday, May 18, 2023. (Photo courtesy of Chatham-Kent police)


--------------------
Wanted man found hiding in locked room
A 34-year-old man and a 31-year-old woman are both facing charges after police were called to a domestic disturbance in Chatham Wednesday night.
Police said after they were called to the home, they learned that the man was currently bound by conditions that required him not to communicate with the woman who was there or to attend her home.
Officers said they found the man, who was also wanted on an outstanding warrant, hiding in a locked bathroom at the residence and arrested him.
He was charged with two counts of failing to comply with his release conditions.
Police said another woman who was in the home was arrested on an outstanding warrant for obstructing police.
The 31-year-old woman was later released pending a future court date.
--------------------
Man charged with assault after argument at Chatham residence turns violent
A 33-year-old man is facing an assault charge after he allegedly attacked a fellow tenant in a home on Park Street in Chatham.
Police said they were called to the residence Wednesday morning, adding that the two men involved in the incident know each other.
Officers said their investigation showed that the two men were arguing when the alleged assault took place.
The accused was arrested, charged, and later released with a future court date.
--------------------
Thieves cause $15K oil spill, steal parts from old transformers
Chatham-Kent police are looking for tips from the public after some alleged thieves broke into a fenced compound at a business in Chatham and caused quite a mess.
Police said the break-in took place at a business on Queen Street sometime between 4:30 a.m. Tuesday and 4:15 a.m. Wednesday.
Officers said whoever broke in also dismantled several transformers that were slated to be recycled and removed the inner components while also tipping out all of the oil.
Whoever made that mess also took off with some copper bars that were inside a transformer.
The total value of the theft was estimated at $3,000, but that's only a fraction of the cost of the environmental cleanup caused by the oil spill.
The cleanup costs were estimated at $15,000.
Anyone with information is asked to contact Constable Corey Aitken at coreya@chatham-kent.ca.
You can also submit an anonymous tip to Crime Stoppers at 1-800-222-TIPS (8477) and may be eligible for a cash reward.