A longtime maple syrup business in Blenheim has closed after 40 years of making lives sweeter and the owners are flying onto a new venture.
Giffin's Maple Syrup Products on Communications Road near Shrewsbury has announced the closure of its doors and is thanking their customers for their support since 1983.
Adrian Rivard and his wife Diane took over the maple syrup business in 2018 after Diane's father Don Giffin passed away. However, a new opportunity presented itself and the Rivards started a new company called Drone Spray Canada three years ago. Drone Spray Canada is a company that uses drones to conduct research, spray fertilizer on crops quicker than traditional methods, provide clearer inspection imaging of fields, and seed farm fields.
It was a natural evolution for Adrian because he was a commercial pilot for 15 years.
Adrian told CK News Today closing the maple syrup business was a difficult decision but they needed to invest all of their time and resources into the Done Spray Canada business because "a lot of opportunities are opening up."
"Unfortunately, it's just one of those things where you had to pick your favourite child. The other business that we started is really getting a lot of momentum and it's taking a lot of my time. It turns out there's only so many hours in a day and we had to put that one down," said Rivard. "It's a labour of love and we do get a lot of satisfaction from all the positive feedback in the community. Every time we sold at a store or market we got a lot of people that were really disappointed or upset, which is a better assessment than don't let the door hit you on the way out."
Adrian said drone spraying doesn't damage the crops, is more efficient than traditional methods, and is more economical than hiring an aircraft.
The company can't dust crops with pesticides yet because currently there are no regulated products that are legal to be applied by drone in Canada, at least not yet. Adrian said Health Canada's Pesticide Management Regulatory Agency is currently reviewing drones as an acceptable practice and he expects the crop pesticide spraying regulations for drones to be in place in about two years.
Rivard said "sky is the limit" for growth in his company, adding it's very involved with government and other studies.
He said mosquito control and controlling invasive species will be big for his business.
"We've had calls from British Columbia that wanted to try and do some work on industrial vegetation management and some research projects that we can try and tie into that. We've had some inquiries from Nova Scotia that is trying to control some invasive species. Across the country there's piles of work," said Rivard.
Rivard added his company has also worked in Manitoba.
The first employee at Drone Spray Canada was hired about a month ago and will be based out of St. Marys.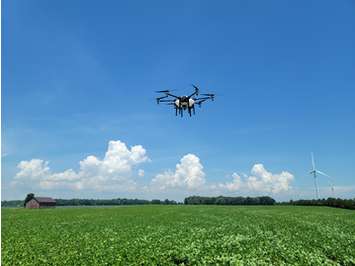 Drone Spray Canada in Blenheim. (Photo via Drone Spray Canada)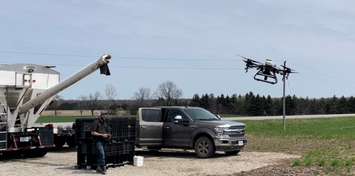 Drone Spray Canada in Blenheim. (Photo via Drone Spray Canada)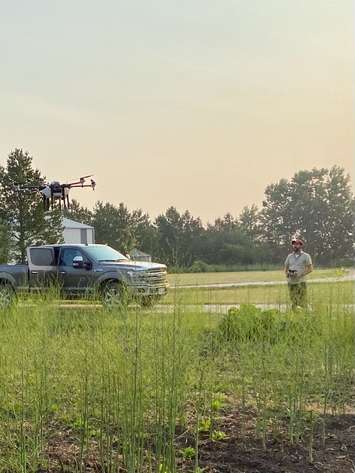 Drone Spray Canada in Blenheim. (Photo via Drone Spray Canada)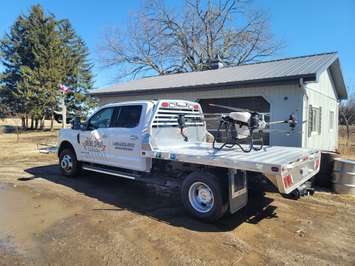 Drone Spray Canada in Blenheim. (Photo via Drone Spray Canada)