Ridgetown man tries to flee crash scene, held by bystanders
A 33-year-old Ridgetown man who wasn't supposed to be driving is facing a long list of charges after he was allegedly involved in a crash on McNaughton Avenue in Wallaceburg Tuesday afternoon.
Chatham-Kent police said they were called to the scene of the crash just after 1 p.m. Tuesday, adding that their investigation showed the accused had been driving south on McNaughton Ave. at a high rate of speed when his vehicle hit another vehicle that was exiting a parking lot.
Officers said both of the vehicles had "extensive damages" as a result of the crash and that the man allegedly tried to run away from the scene, but was detained by some bystanders.
Police arrested the man once they arrived and allegedly found some suspected cocaine, methamphetamine, and fentanyl on him.
Officers said the man was also carrying a homemade taser, even though he had been banned from possessing weapons.
As a result of the investigation, the man was charged with five counts of possession of a weapon contrary to a prohibition order and one count each of the following offences: dangerous driving, driving without a license, driving a vehicle without an ignition interlock device, failing to stop at the scene of a collision, drug possession for the purpose of trafficking, and possession of a dangerous weapon.
He was taken back to police headquarters and was set to be held there pending a bail hearing.
------------------
Ridgetown woman accused of threatening someone with a bat after an argument
A 43-year-old Ridgetown woman is facing a handful of charges after she allegedly showed up at a woman's home uninvited -- twice in the same day.
Police said they were called to the home on George Street in Ridgetown at 5:45 p.m. Tuesday and learned that the accused had allegedly shown up at the victim's home uninvited and started an argument.
Officers said at that point, another woman who was also in the house tried to step in and calm the situation, but the accused then grabbed her arm and shoved her out of the way.
The accused then allegedly followed the victim and her grandchild around the house while yelling.
Police said the accused then left the residence, but came back with a baseball bat, holding it up and threatening to hurt the homeowner.
Officers arrested the woman and charged her with two counts of assault along with one count each of assault with a weapon, being unlawful in a dwelling, weapons dangerous, and uttering threats.
She was taken back to police headquarters and was later released with conditions and a future court date.
------------------
Urns stolen during vehicle break-in
Chatham-Kent police are looking for tips from the public as they try to track down some leads after someone stole a pair of urns from a vehicle on James Court in Chatham.
Police said the vehicles were broken into sometime overnight between March 3 and March 4.
Anyone with information is asked to contact Constable Danica Quenneville at danicaq@chatham-kent.ca or 519-436-6600.
Anonymous callers may call Crime Stoppers at 1-800-222-TIPS (8477) and may be eligible for a cash reward.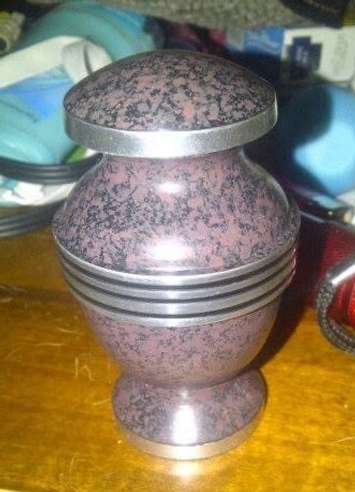 (Photo courtesy of Chatham-Kent police)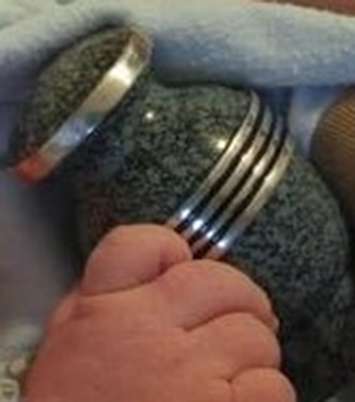 (Photo courtesy of Chatham-Kent police)


------------------
Woman accused of assaulting man during argument
A 20-year-old Chatham woman is facing an assault charge after she allegedly put her hands around a man's neck when they were arguing Tuesday morning.
Chatham-Kent police said they learned about that after they were called to a residence on Blythwood Crescent in Chatham just before 10 a.m. Tuesday for a domestic disturbance.
The woman was arrested, charged, and taken back to police headquarters. She was later released with conditions and a future court date.