Glenn Howard commended the Chatham-Kent fans after a big win Thursday to stay in the tournament.
After a tough loss in his first game Wednesday night, Howard and his team from Ontario had a big bounce back against Gushue, arguably the best team in the world. Howard played the Newfoundland team int he third draw at the Pinty's Grand Slam of Curling Elite 10 being held at the St. Clair Campus Arena in Chatham.
Howard was able to pull off the victory three ends to two in the final end. Although he was proud of his team, he was even more inspired by the crowds so far.
"It is super impressive," Howard said. "I couldn't believe when I came in here Wednesday night to a packed crowd on a Wednesday night at the end of September, that's impressive. That says a lot about the fan base. I know Chatham quite well. I've been to a few provincials here back in the day. I think they are very knowledgeable fans. They know their curling."
As for the win itself, Howard said it felt really good coming off one of the worst games his team has ever played losing five ends to one to John Epping Wednesday night. He added it just took some time to get used to the ice and his team had to use their brains a little more, but he is very proud of them.
The Elite 10 scoring system is different than normal and is more of a skins game, which is something Howard said is a lot of fun and not just for the players.
"It makes for great, exciting curling for the fans," Howard said. "You tend to be more aggressive because if you give up a five-ender it's only one skin so you're OK. It is nerve-wracking though."
Howard said the four minutes to play each end really puts pressure on the players to move quickly, which can lead to bad decisions if they're not careful.
It wasn't just Howard who drew the sold-out crowd Thursday as all the big names were in action. Keven Koe of Alberta beat Brad Jacobs of Ontario three ends to none. On the women's side, Rachel Homan of Ontario beat Jamie Sinclair of the USA four ends to two, while Jennifer Jones of Manitoba beat Silvana Tirinzoni of Switzerland five ends to two.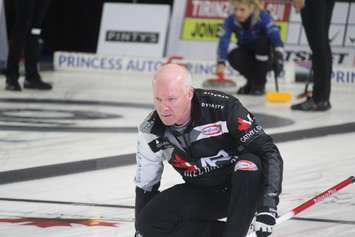 Glenn Howard said in a skins scoring system the players have to really use their brain especially with a four minute end clock. September 27, 2018. (Photo by Greg Higgins)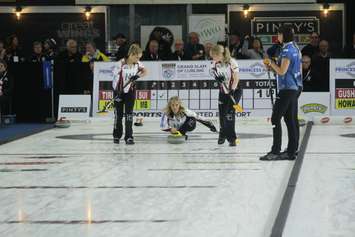 One of Jennifer Jones' throws as she defeated Silvana Tirinzoni. September 27, 2018. (Photo by Greg Higgins)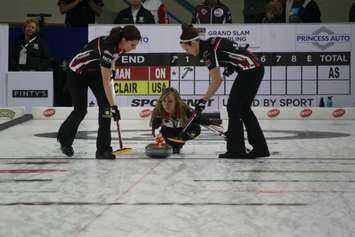 Rachel Homan in action Thursday during the third draw of the Pinty's Grand Slam of Curling Elite 10 in Chatham-Kent. September 27, 2018. (Photo by Greg Higgins)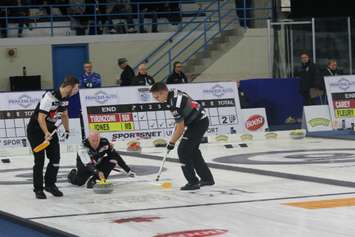 Glenn Howard throwing a rock during his big win against Brad Gushue. September 27, 2018. (Photo by Greg Higgins)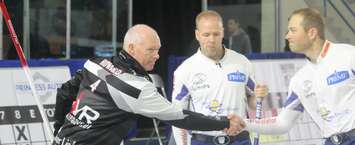 Glenn Howard shakes hands with Team Gushue after a big win in the third draw of the Pinty's Grand Slam of Curling Elite 10. September 27, 2018. (Photo by Greg Higgins)