The Chatham Maroons edged the St. Thomas Stars 3-2 on Friday to take a 2-0 series lead in the first round of the GOJHL playoffs.
The Stars kicked off the game by taking an early 2-0 in under two minutes into the first period.  However, Bryce Yetman and Ethan Sarfati scored back-to-back goals for the Maroons late in the frame to tie things at 2-2.
After a scoreless second period, Kevin Gursoy scored the game winner for Chatham with less than a minute remaining in the third.
Hear the call from Mike Regnier on Country 92.9FM/630AM CFCO:
[audio mp3="http://blackburnnews.com/wp-content/uploads/2017/03/gursoy-game-winner-march-3.mp3"][/audio]
"We knew coming in that it was going to be a little bit more difficult than how it was earlier in the year. So we've just been bearing down and trying to battle out these guys," says Gursoy. "We're just trying to keep this momentum going."
Maroons goaltender Brendan Johnston made 31 saves out of 33 shots on net.
The Maroons return to Chatham to take of the Stars in Game 3 on Sunday. The puck drops at 7pm.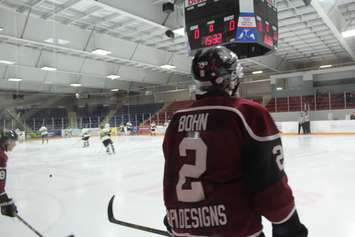 Chatham Maroons defenceman Dakota Bohn. (Photo by Matt Weverink)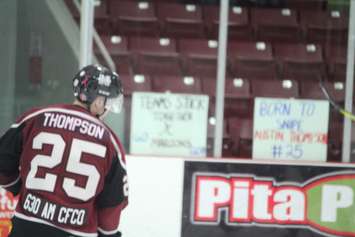 Chatham Maroons forward Austin Thompson. (Photo by Matt Weverink)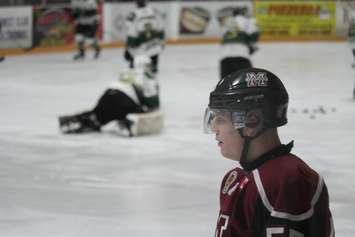 Chatham Maroons forward Noah Bushnell. (Photo by Matt Weverink)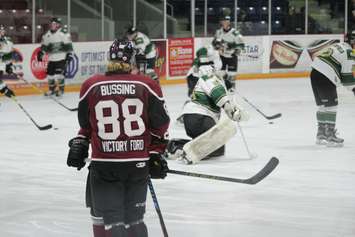 Chatham Maroons defenceman Corey Bussing. (Photo by Matt Weverink)